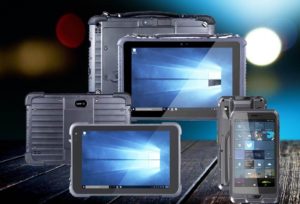 AirMed recommends industrial tablets for use in your cannabis business. These ruggedized hand-held devices are waterproof and dust proof and can withstand a drop from five feet on a concrete floor. They have a built-in barcode scanner and camera and come loaded with Windows 10. The tablets feature a docking station with USB ports for printers, scales, keyboard, mouse and other peripherals.
When configured with AirMed Cloud software and attached to a printer and scale, tablets function as a self-contained workstation to carry out all process-related tasks. They can be integrated with barcode software to capture data throughout your operations. A tablet can serve as the computer for a specific work area such as a nursery or mother room, grow or drying room, laboratory, warehouse or loading dock.
These ruggedized industrial tablets are sold directly through AirMed Canada Systems Inc. and work with Windows applications. If you purchase a tablet through AirMed, it can be pre-configured with AirMed Cloud software as well as Winwedge software for barcode scanning.
These tablets are part of our new AirMed Ecosystem, which integrates AirMed with couriers, printers, scanners, ecommerce software and more. Our new AirMed Ecosystem lets you purchase hardware and software from us in a turn-key solution for your cannabis business. For more information visit our Partners page.
Each product selected for the AirMed Ecosystem is carefully chosen based on its ability to provide value, lower production costs and increase competitiveness for AirMed customers. You create the package that's right for you from pre-configured hardware and software.
AirMed offers the tools you need in the office, the greenhouse and on the loading dock. Our Ecosystem lets you purchase hardware and software in a turn-key
seed-to-sale management solution.
To learn more about our Ecosystem program, visit: AirMed Ecosystem
To learn more about Winwedge software visit: TalTech