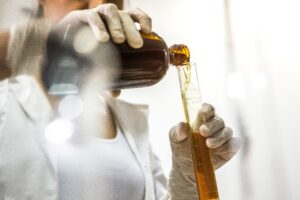 AirMed provides licensed producers with a complete framework to establish and validate a quality assurance system.
The AirMed QA system is based on pre-defined North American and European pharmacopeia.
The system tracks testing results for the samples taken at any stage of production and enables shipping of samples to third-party QA labs. Results and certificate of analysis documents are logged and used to determine if the material the sample was derived from is acceptable for sale. Test results are verified by an authorized QA person and a passed or failed status is assigned to each data point. The QA results are maintained in the system and can be referenced at any point to review the values.
From reviewing non-conformance to documenting and communicating findings, AirMed helps you maintain your desired level of quality. Tracking attention to detail for every process gives you total confidence in your product.
For more information about quality assurance in AirMed, visit our Software page.  You can also schedule a live preview of the software by clicking the Request Demo button at the top of the screen. Or give us a call at 1-877-313-2442.